Business
10 Ways to Streamline Your Shipping Solutions 
Managing the shipping process is critical for boosting customer service, and satisfaction, improving the manufacturing process, cost cutting, and many more. Nearly all companies rely on shipping different goods to customers or raw materials from suppliers. Due to its critical role, there is a need to streamline the process to ensure efficiency. 
Shipping should no longer be a challenge for companies since they can rely on already streamlined shipping solutions offered by logistics and shipping companies like ShipCarte with shipping experience and resources. These companies can help you eliminate the challenges of in-house shipping, such as higher costs and implications for resource management.  
Here are ways to streamline shipping solutions.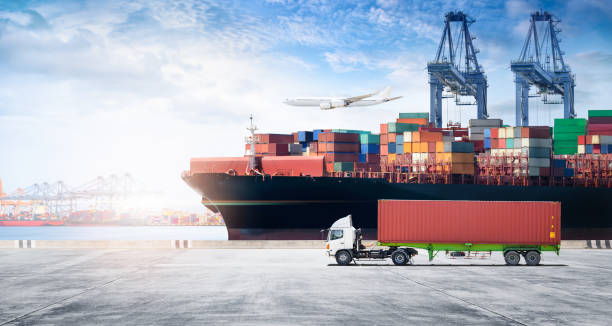 Image source: 
Select The Ideal Shipping Method
There are different shipping methods available: trucking, trains, ships, and flights. To streamline the process, you need to focus on the costs and duration you take to ship your products to the desired destination. If the distance is shorter and the goods required are perishable, flights can be ideal, especially if they are not bulky items. For bulky items that need fast delivery, trains will be an ideal option, but this will depend on your proximity to the train station.  
Automate the process
Automating the process is the best way to gain more from the shipping process. Ensure you automate all the activities involved in the shipping process.  
Automation has various benefits, such as cost-cutting, tracking the items, and increasing your control over the shipping process. Automation lets you use different tech devices, such as laptops and mobile devices, to track the shipping process. 
The Level of Control You Need
One way to control the shipping process is to determine the resources needed. For instance, if you need the items trucked to another warehouse, the best control process is to buy your trucks since this will enable you to monitor the deliveries and dispatch.  
For smaller operations that are not very frequent, you can rely on third-party contracts to do the deliveries to avoid idle resources. If you are manufacturing a company in another country, you can use a third party for company resources depending on the nature of the goods and capacity.  
Adjust Product Prices to Offer Free Shipping
Most people would reject products due to shipping fees; hence you need to streamline the product prices to streamline the shipping fees. Lowering the product price encourages bulk purchases, hence lowering free shipping costs to all destinations. Focus on making shipping affordable or free based on the size and nature of the products.  
Improve Communication
Communication is integral for shipping hence the need for automation to help with tracking and notifications. Without automation, communication can help improve shipping, especially for warehousing. The communication should involve issues such as product volumes, the duration needed, and other requirements such as precautions when shipping the products. You also need to communicate when the products are dispatched and when they arrive.  
Use The Right Technology
The right technology for streamlining shipping will vary depending on the shipping methods used. One of the technology is logistics systems which can be suitable for communicating product volumes, arrival, and other needs.  
The other technology is tracking technology for trucks which can help you determine the exact location of the track. Other shipping solutions can also help clients track the status of their parcels, i.e., dispatch, packed, delivered, etc.  
Use Multiple Courier Services
If shipping smaller parcels to customers, you must ensure the last-mile delivery process is streamlined. Relying on multiple courier services enables you to service customers in different locations since not all courier services can reach all locations. This also enables your customers to enjoy price offers to your customers since other courier services can offer lower discounts and processes for different locations. This will also enable your customers to choose reliable and preferred courier services to deliver their products.  
Economies of Scale for Shipping
The economies of scale are suitable for selecting the most cost-effective delivery option for their customers and reducing shipping expenses. Each shipping strategy selected has its cost advantage based on the size of the goods and the distance covered. Also, consider multiple or connected shipping, i.e., trains and trucks, when the methods offer lower costs for the customers and the company. Maximize the economics such as fast delivery to improve sales period and process, increasing profitability. 
Blockchain for Shipping
Blockchain is currently becoming one of the most reliable ways to streamline shipping. Blockchain is significant for tracking payments and shipping information exchanged between the relevant parties. It enables you to track the deliveries, receipts of goods, contracts, and other documentation related to shipping. Blockchain is also significant for financial security and monitoring financial tractions to avoid issues such as scamming, especially for first-time shippers.  
Reliable Partnerships
Shipping can sometimes involve various partners, especially if you are involved in the manufacturing sector. Even for fulfillment and online retail, there is a need to partner with various players to help with the shipping. You need to partner with trucking, shipping, and train companies to use their resources to deliver the goods.  
These partners can also save you the burden of purchasing in-house shipping facilities, which can be expensive to purchase and maintain in the long run. These partnerships are also significant for last-mile deliveries and ensuring the products are available for customers on time.  
Conclusion 
Streamlining shipping solutions requires multiple strategies and approaches. The main reasons to streamline the process are to reduce shipping costs, boost delivery periods, and improve customer satisfaction and service delivery. Begin by having the right technologies and partners and focusing on economies of scale.