Games
8 Best Character Abilities And Upgrades In Atomic Heart
In Atomic Heart, players should focus on the following skills and upgrades for their characters.
Atomic Heart is a first-person shooter, but it also has two skill trees that can be changed and accessed through NORA machines. The first one is for the player's A.I. glove, Char-les, and the second one is for the player's character, P-3. These character upgrades and abilities can give bonuses to things like movement, healing, and the amount of stuff you can carry.
Character abilities in Atomic Heart are different from glove abilities in that they don't give visible boosts but rather statistical ones. However, they can be just as useful, especially when it comes to overall defense and taking damage. Each ability will cost neuropolymers, which are a made-up currency that can be found on dead enemies and in places where there is loot, like drawers, desks, and lockers. As with the glove abilities, you won't be able to use certain items until you've bought the required skill from the skill tree.
Nora's Kiss
From the first time they meet, it's clear that NORA likes P-3 in more ways than one. In the beginning of the story, she gives them a free bonus called "Nora's Kiss." With only 1HP left, the player will be able to stay alive thanks to this ability. It is especially useful for getting through laser-guarded areas that would be inaccessible otherwise, but it can also protect you from damage from falls and explosions if you need it to.
The perk only works for a short amount of time, so it's best to use it in puzzles instead of battles. It also requires some planning before buying to make sure it doesn't go to waste.
Morning Exercise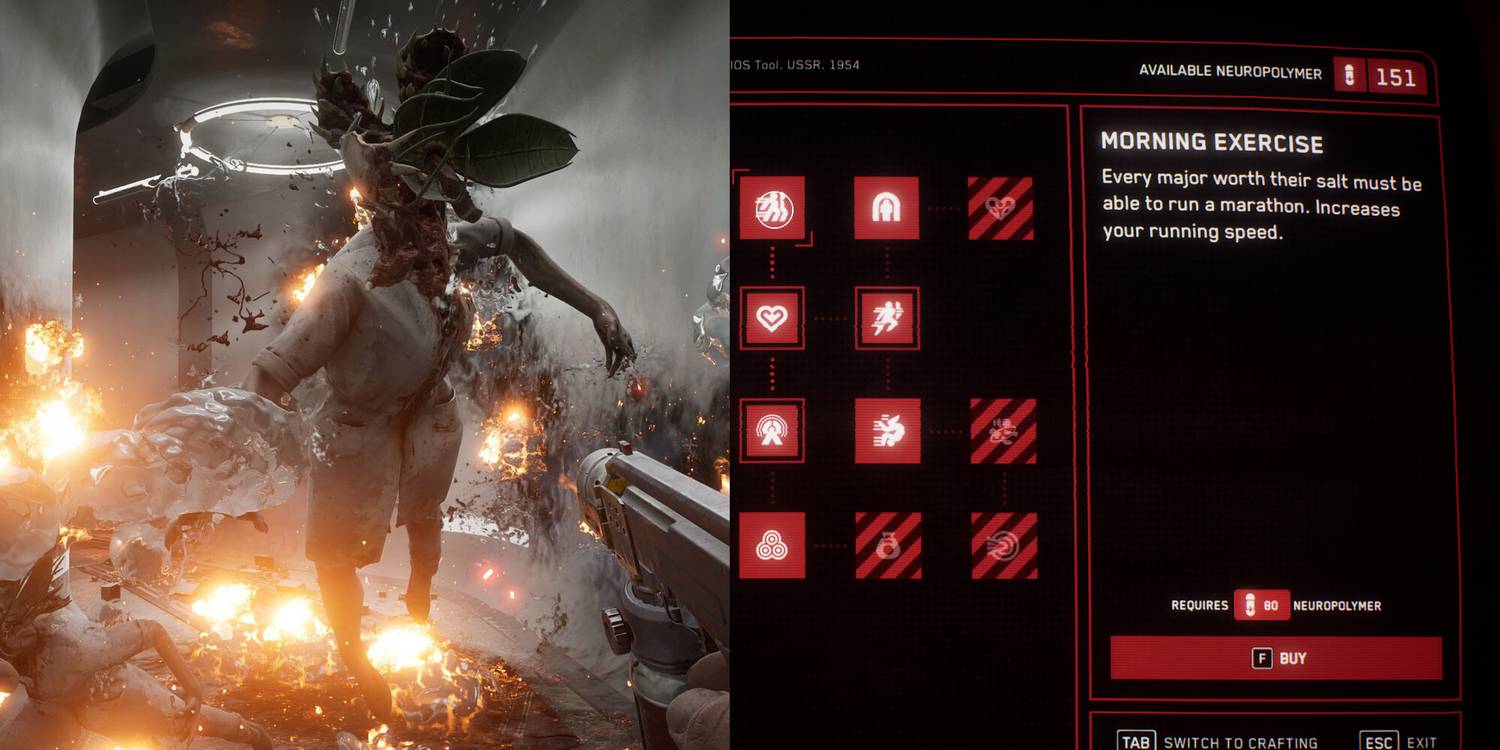 This ability gives a bonus to running speed, which, again, might not sound like much. But because many of Atomic Heart's enemies are fast and strong, it is sometimes easier to run away than to stay in the fight, even if it's just to hide and heal for a while. Since the game doesn't have a sprint button, this perk is the best way to get away from enemies on foot.
PC players should also know that there is no "toggle walk" function yet, so running around the map at full speed can be quite jarring. It looks like the only way to fix this is to play with a controller, since movement speeds are much smoother and easier to control that way.
Second Wind/Sleazeball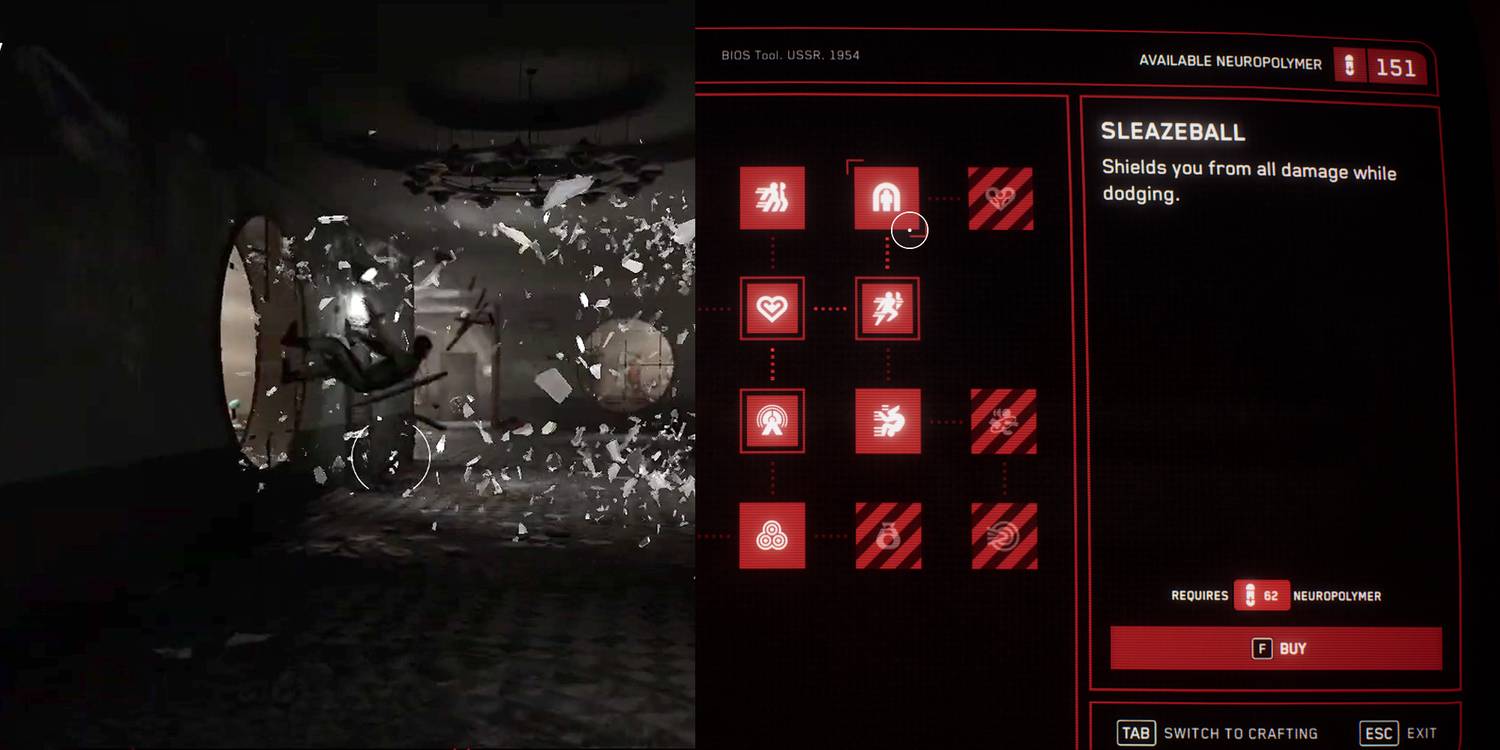 One of the most important skills to learn in Atomic Heart is how to dodge. Due to the lack of bullets, many enemies will have to be fought up close, and using the dodge can make the difference between success and failure. "Second Wind" costs only 8 neuropolymers and gives a second chance to dodge before the cooldown timer starts. This gives players a second chance in close-quarters fights or just a few extra meters to get away from an attacker who is following them.
For 62 neuropolymers, "Sleazeball" will make you immune to all damage while dodging. This can be very helpful when fighting bosses or when a lot of powerful enemies with laser weapons are attacking at once.
Med Unit Upgrade/Musclehead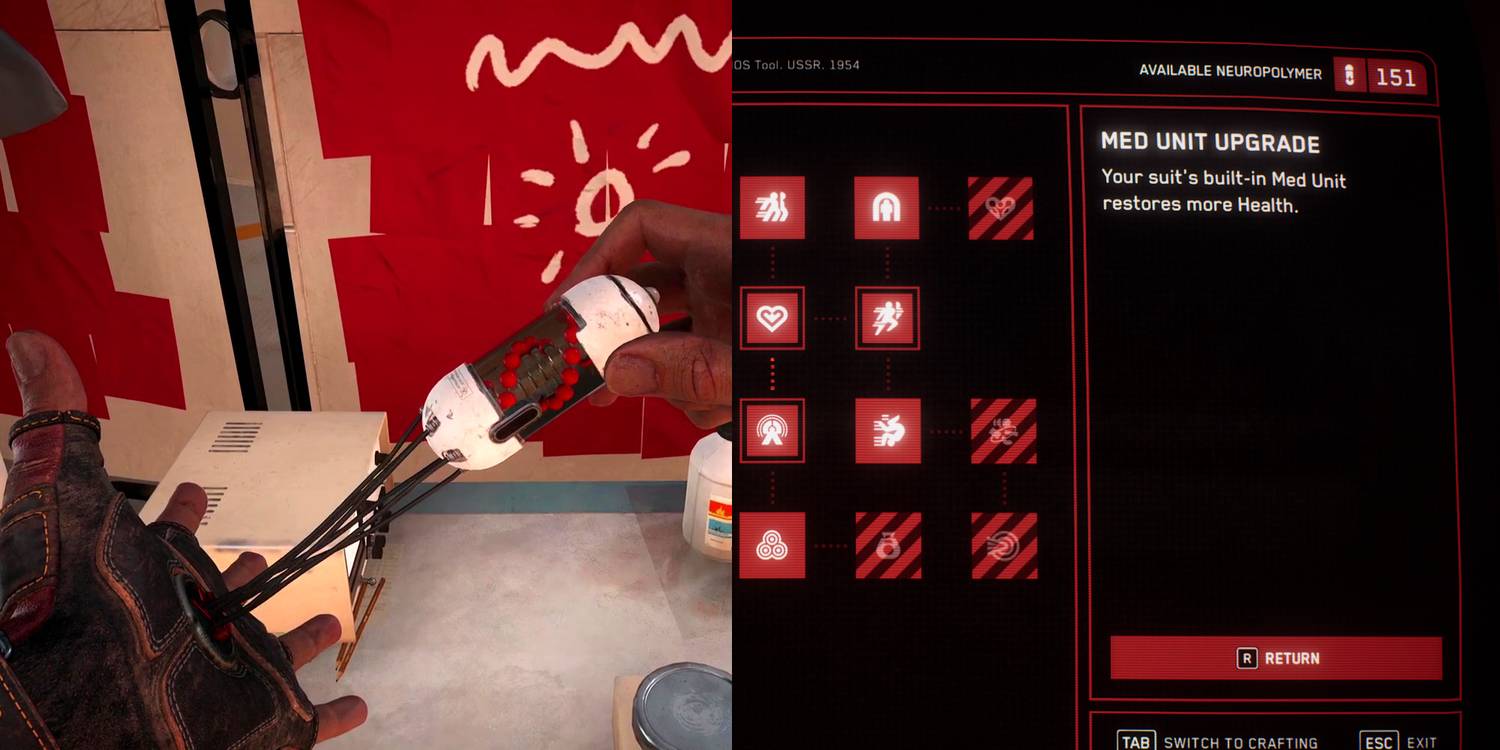 You can buy these two perks to increase your base health regeneration and maximum health capacity. This can help you stay alive longer or just free up space in your inventory so you don't have to carry as many neuromeds. "Med Unit Upgrade" will cost 57 neuropolymers at a NORA and requires that you first buy the skills "Nora's Kiss," "Wild Boar," and "Photon Silk" from the skill tree.
This will make it easier for your body to heal itself, so you can get back to fighting faster. After this, buying "Musclehead" for 110 neuropolymers will increase your base health and keep all the benefits of the skills you've already bought in the tree.
Cell Division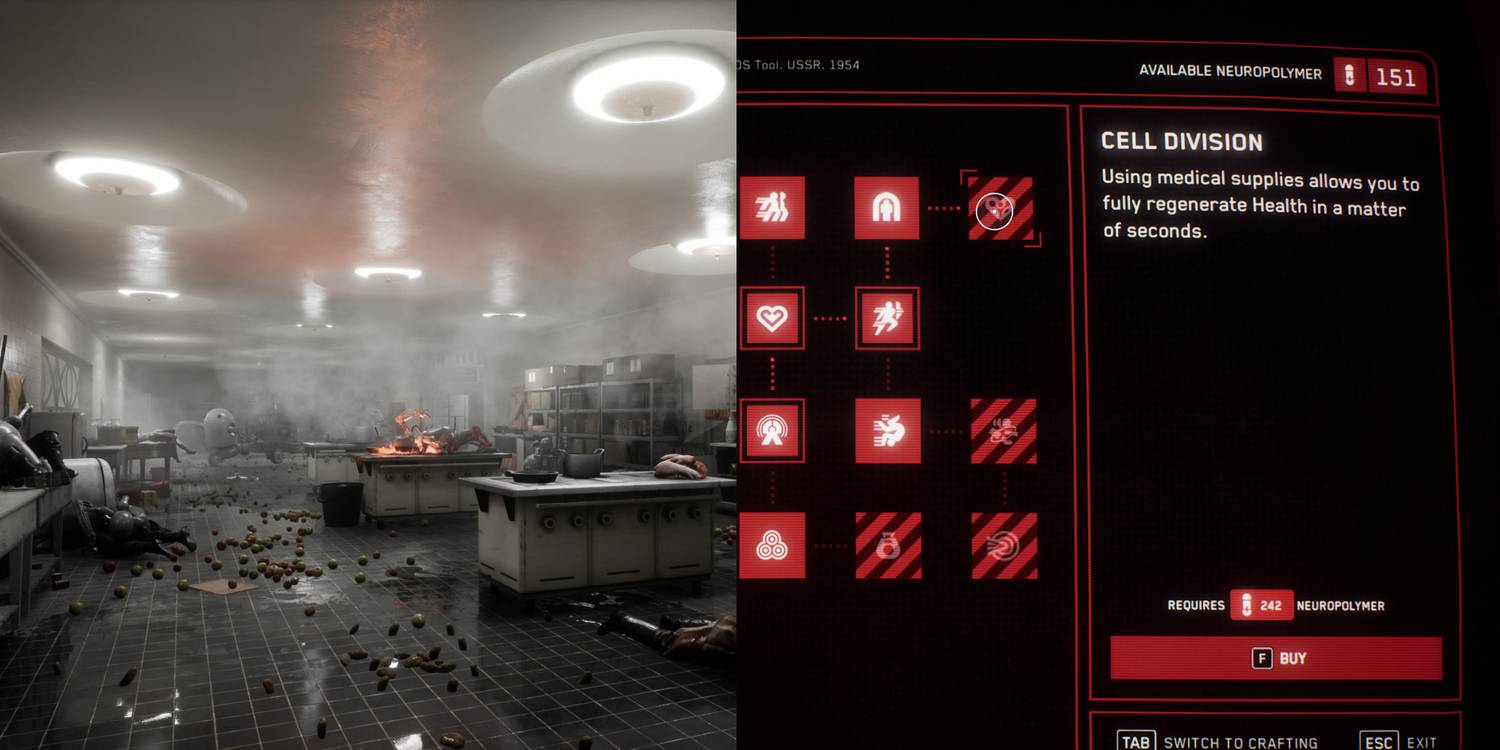 The "Cell Division" ability takes healing one step further by giving the player full health back in just a few seconds without the need for neuromeds. This means that a short dash may be all you need to get away from powerful enemies, and it shows that running away is sometimes better than fighting, especially when exploring the surface.
Through the skill tree, fans will first have to unlock "Sleazeball" and its prerequisites, "Second Wind," "Wild Boar," and "Nora's Kiss." The most expensive character ability is "Cell Division," which costs a whopping 242 neuropolymers.
Neuro-Compression Tactical Backpack
When P-3 gets to the surface, he will have a lot more weapons and collectibles to choose from. This seems like an advantage, but it can be a problem if inventory space isn't increased first. The only way to do this in 8 Ball Pool game is through the character skill tree, and more specifically the carry-capacity abilities.
First, players will need to unlock the "Extra Capacity Cluster Munitions" ability, which will increase the number of cluster munitions they can use. After you've done this, you'll be able to use the "Neuro-Compression Tactical Backpack" ability. This will change the player's overall carrying capacity for all items, letting them carry more weapons and medical supplies.
Juggler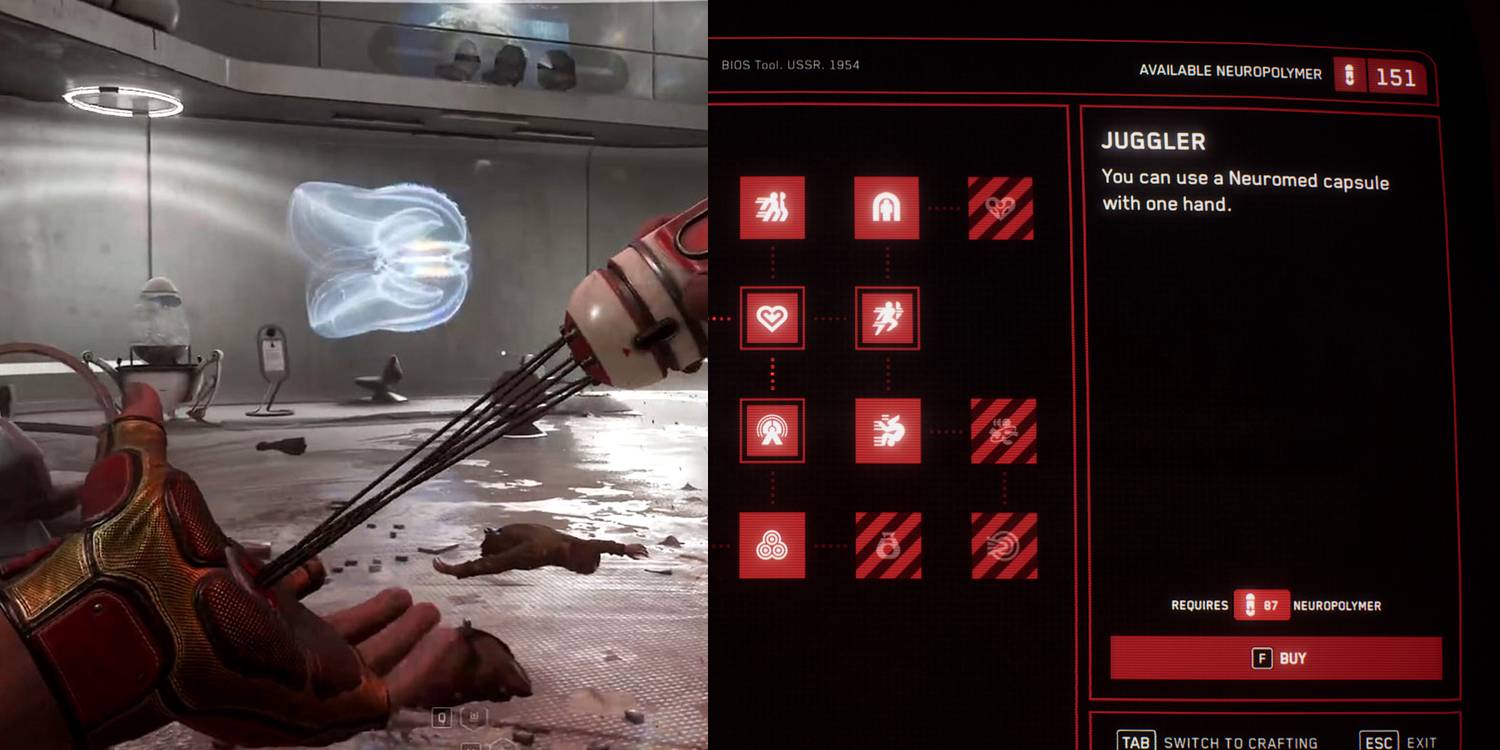 In Atomic Heart, the main way to get better is to take Neuromeds, which are small capsules that connect to the Char-les gloves' fingers and restore about 50% of health when activated. The problem with these is that you need both hands to use them. This means that during tense battles, the player has to retreat and stop fighting to heal up.
With the "Juggler" ability, P-3 will be able to use Neuromeds with just one hand. This will let him keep his weapon arm free to attack or defend as needed. This ability can save important seconds in battle, and fans won't have to worry about enemies coming back to life when they switch sides. First, you'll need to get the "Musclehead" ability and its requirements, but the "Juggler" ability only costs 87 Neuropolymers, which isn't too much.
Full House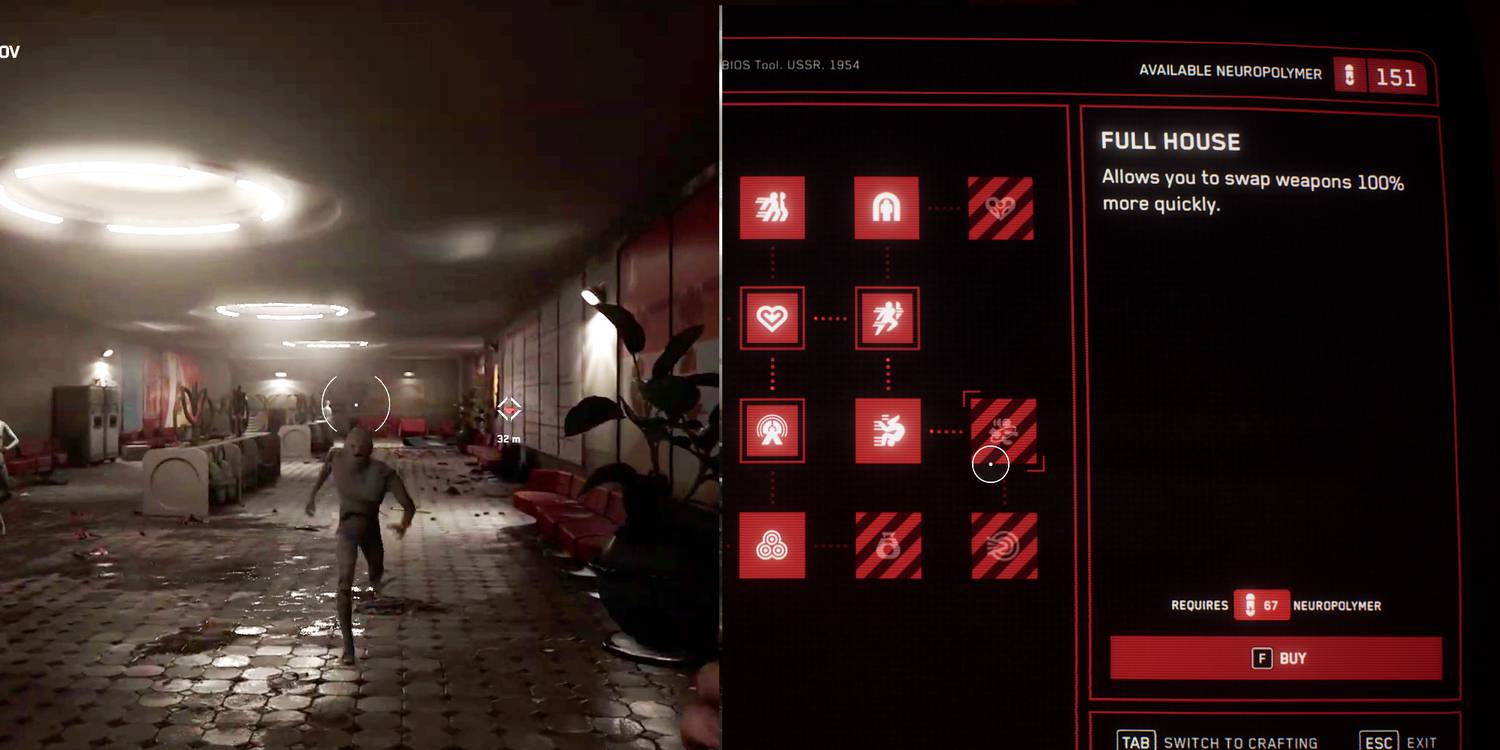 Atomic Heart can make it hard and slow to switch between weapons, which can be frustrating given how quickly enemies can close the distance and force you to switch to melee combat when you don't want to. This seems to be by design, though, and the problem can be fixed by using 67 neuropolymers to unlock the "Full House" skill.
This ability will make P-3's ability to switch weapons much faster. It will also make the transition and animation much smoother, which could mean the difference between life and death in Facility 3826.
Atomic Heart can be played on PC, PlayStation 4, PlayStation 5, Xbox One, and Xbox Series X/S.